Los interlocutores sociales europeos llaman a la UE a poner fin a los abusos de los pescadores migrantes en una parte del sector pesquero de la UE

El miércoles 10 de mayo, los interlocutores sociales europeos* sobre pesca marítima firmaron una resolución en la que invitaban a la Unión Europea (UE) a asumir su responsabilidad y poner fin a las prácticas de trabajo forzoso en aguas de la UE. Las investigaciones realizadas por la Federación Internacional de Trabajadores del Transporte (ITF) revelaron graves infracciones de los principios fundamentales en el trabajo y los derechos de protección social de los pescadores migrantes en una parte del sector pesquero de la UE. Los interlocutores sociales esperan que la UE garantice el cumplimiento por parte de los Estados miembros de sus obligaciones y adopte directrices para las inspecciones del Estado del pabellón y del Estado del puerto para prevenir tales prácticas.
At its Sectoral Social Dialogue Committee meeting the General Confederation of Agricultural Cooperatives in the European Union (COGECA), the Association of National Organisations of Fishing Enterprises in the European Union (Europêche) and the European Transport Workers' Federation (ETF) strongly condemned the lack of actions from the EU to implement and enforce international agreements to protect migrant fishers working in EU waters.
The inspections of the International Transport Workers' Federation found infringements in terms of, among others, intimidation and threats, retention of identify documents, withholding of wages and debt bondage.
Spokesperson of the workers' representative, Flemming Smidt comments: "In total the violations represent 10 out of eleven indicators of forced labour mentioned in the Guidelines on flag State inspection adopted by the International Labour Organisation (ILO). And these breaches of international agreements that are harming fishermen and put them in inhuman conditions, happen under the watchful eye of the European Union and its Member States. This is completely unacceptable and unworthy for a Union that is condemning in the strongest terms such immoral practices outside EU waters!"
Spokesperson of the employers' representative, Ment van der Zwan says: "With this joint resolution we give a strong signal to the responsible authorities that we as employers' and workers' representatives stand very firm and united in favour of high safety standards for all fishermen and against any practice that violates fundamental principles and rights at work or the flag State's legislation regardless of a fisherman's country of origin."
You can find the joint social partners declaration as annex to this press release.
ENDS
For further information, please contact:
* The European Transport Workers' Federation (ETF) represents more than 3.5 million transport workers from more than 230 transport unions and 41 European countries, in the following sectors: railways, road transport and logistics, maritime transport, inland waterways, civil aviation, ports & docks, tourism and fisheries.
Europêche represents the catching sector in Europe. In the context of the Social Dialogue, the Association comprises 15 national organisations of fishing enterprises from Iceland and the following 10 EU Member States: DE, DK, ES, FR, IT, MT, NL, LV, PL and UK.
COGECA, now called the "General Confederation of Agricultural Cooperatives in the European Union", currently represents the general and specific interests of some 40,000 farmers' cooperatives employing some 660,000 people and is recognised by the European Institutions as the main representative body and spokesman for the entire agricultural and fisheries cooperative sector.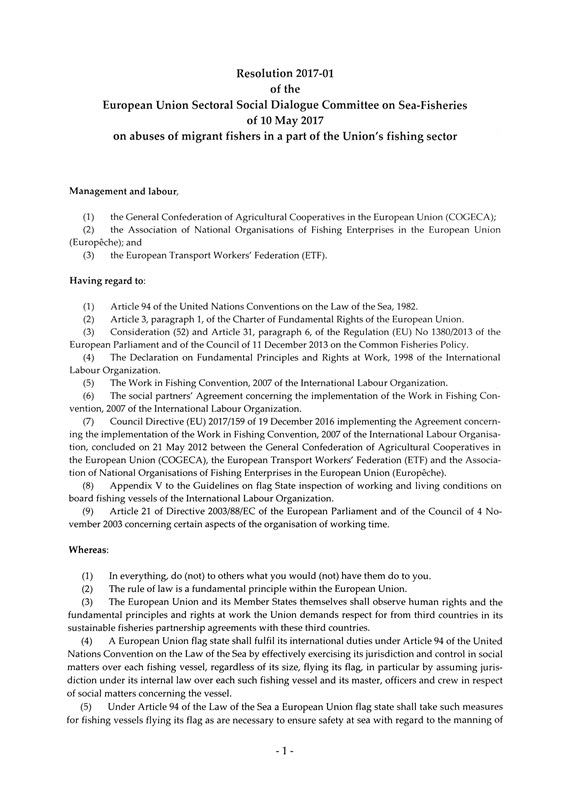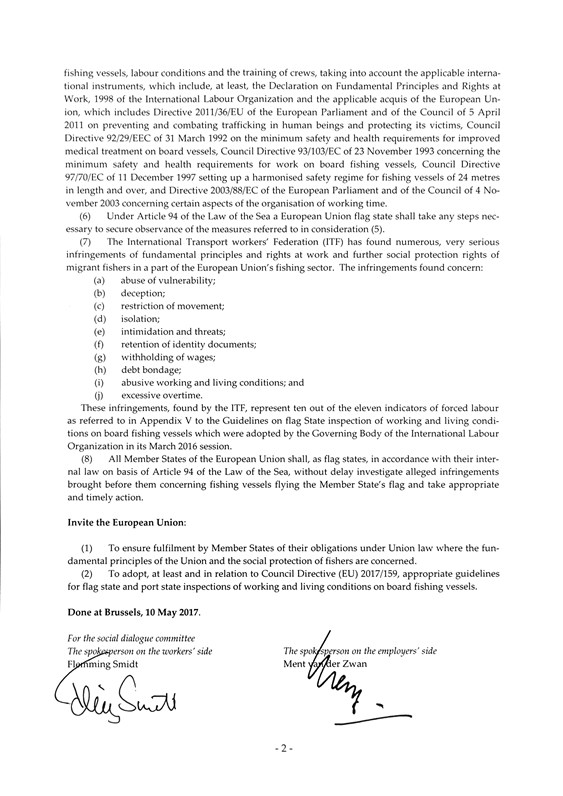 Tags: etf, Migrante, trabajo, abusos, ITF, diálogo social, pesca