Press Releases

Yesterday, the European Parliament Committee on Fisheries adopted its position on the European Commission proposal establishing a new multiannual management plan of demersal fisheries in the Western Mediterranean that affects the fleets, mainly trawlers, from Italy, France and Spain. Europêche welcomes the positive step forward towards the final adoption of this legislative proposal which, in the context of regionalisation, will provide more stability and bring decision-making closer to fishermen and coastal communities. While welcoming the general results of yesterday's vote, there are two main issues that still trouble the European fishing industry: the introduction of a severe trawl restriction and the harsh reduction of the activity at sea from the first year of implementation of the new rules. These measures can undermine the efforts made so far and the viability of the Mediterranean fleets, who have already suffered a considerable decline in the number of fishing vessels and jobs

The European fishing industry represented by Europêche opposes the inclusion of shortfin mako shark in Appendix II of CITES which would severely curtail the international trade of the species. Particularly, the sector rejects the EU initiative to co-sign a Mexican proposal for this purpose. Europêche believes that this initiative lacks both scientific and legal basis in light of the strong regulatory framework within the context of Regional Fisheries Management Organizations (RFMOs) and other Regional Agreements, the biological characteristics of the species as well as the absence of illegal trade related to these stocks. Consequently, the species is sufficiently protected and regulated so as to ensure its sustainable exploitation and legal trade.

In the early hours, the Fisheries Council reached an agreement on the catch limits for 2019; just two weeks before the latest and toughest phase of the landing obligation comes into effect. Following a fairly conservationist proposal from the European Commission (EC), which proposed for certain stocks even lower levels of quota than recommended by scientists, Ministers adopted a better-balanced decision that will allow to catch more fish while respecting the sustainability of the stocks in the long term. The positive results yielded, thanks to the sacrifices made by the industry over the past decade, may be however compromised by the quick fixes and patches adopted to try to implement an ill-conceived landing obligation for the complexities of the European waters.
News

The commercial fisheries of the EU stretch for thousands of square miles, from the inhospitable seas of the Arctic North, to the warmer and more favourable climes of the Southern Mediterranean. These communal waters harbour a plethora of commercial species of fish and shellfish, the landings of which form an integral part of the economies of 23 member countries, accounting for a colossal 4.9 million tonne catch, from a fleet of 87,500 vessels, a statistic that indicates a world ranking of 5th largest in terms of total output.
European Projects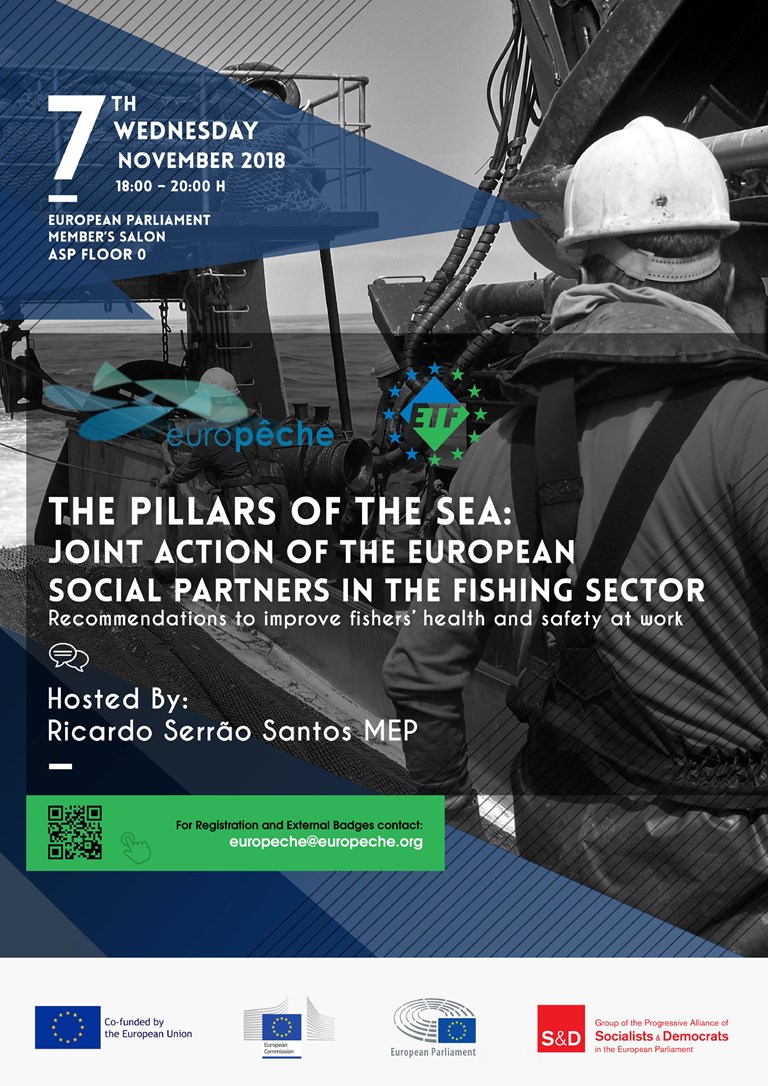 The project as a whole, consists in partially implementing the work programme of the Sectoral Social Dialogue Committee for Sea Fishing in order to significantly make progress in various key areas of interest for Social Partners. The main issues covered by the project are mainly dealing with how to improve health, working conditions and safety at sea of our fishermen.