Press Releases

The European Commission has launched its annual consultation on the state of fish stocks and the preparation for setting fish quotas for next year marked by the objective to fish all stocks at maximum sustainable yield (MSY1) levels by 2020. The good news is that most of the stocks in the North East Atlantic have already reached this target. However, and despite generalised fishing effort reductions, some fish populations are struggling to rebuild or even to remain at current level. The answer may be found in the latest scientific advices which revealed major challenges in some fisheries caused by the destabilizing effect of the full introduction of the landing obligation and environmental factors such as climate change. The European fishing industry represented by Europêche expresses once again its concern over the stated aim to have all stocks at biomass levels that can produce Maximum Sustainable Yields will prove to be counterproductive, since the production capacity of our sea bas

A new report[1] from the UN expert group on Biodiversity and Ecosystem Services (IPBES) has found that nature is declining globally at rates unprecedented in human history with many species facing extinction at accelerating rates. According to the report, the oceans are no exception to this trend caused by changes in sea use, direct exploitation of organisms, climate change, pollution and invasive alien species. The European fishing industry, while acknowledging the potential risks for the marine environment, stresses that fishing poses no threat for the long-term preservation of marine resources. Proof of that is that thanks to fisheries management and industry-led efforts, fish stocks have been generally increasing in many areas such as the North East Atlantic, currently reaching levels 36% higher than in 2003. This positive trend shows that UN's extinction warning particularly for fish populations is a bit far-fetched.

This was one of the main results from the European Scientific, Technical and Economic Committee for Fisheries (STECF) annual report1 on the performance of the Common Fisheries Policy (CFP), particularly concerning the progress towards achieving sustainable fisheries. The scientific report shows that the stock status has significantly improved in the North-East Atlantic with an overall downward trend in the fishing pressure over the period 2003-2017. As a consequence, fish populations have been generally increasing since 2007, reaching in 2017 levels 36% higher than in 2003. However, further efforts are still needed, particularly in the Mediterranean.
Position & Letters

News

The commercial fisheries of the EU stretch for thousands of square miles, from the inhospitable seas of the Arctic North, to the warmer and more favourable climes of the Southern Mediterranean. These communal waters harbour a plethora of commercial species of fish and shellfish, the landings of which form an integral part of the economies of 23 member countries, accounting for a colossal 4.9 million tonne catch, from a fleet of 87,500 vessels, a statistic that indicates a world ranking of 5th largest in terms of total output.
European Projects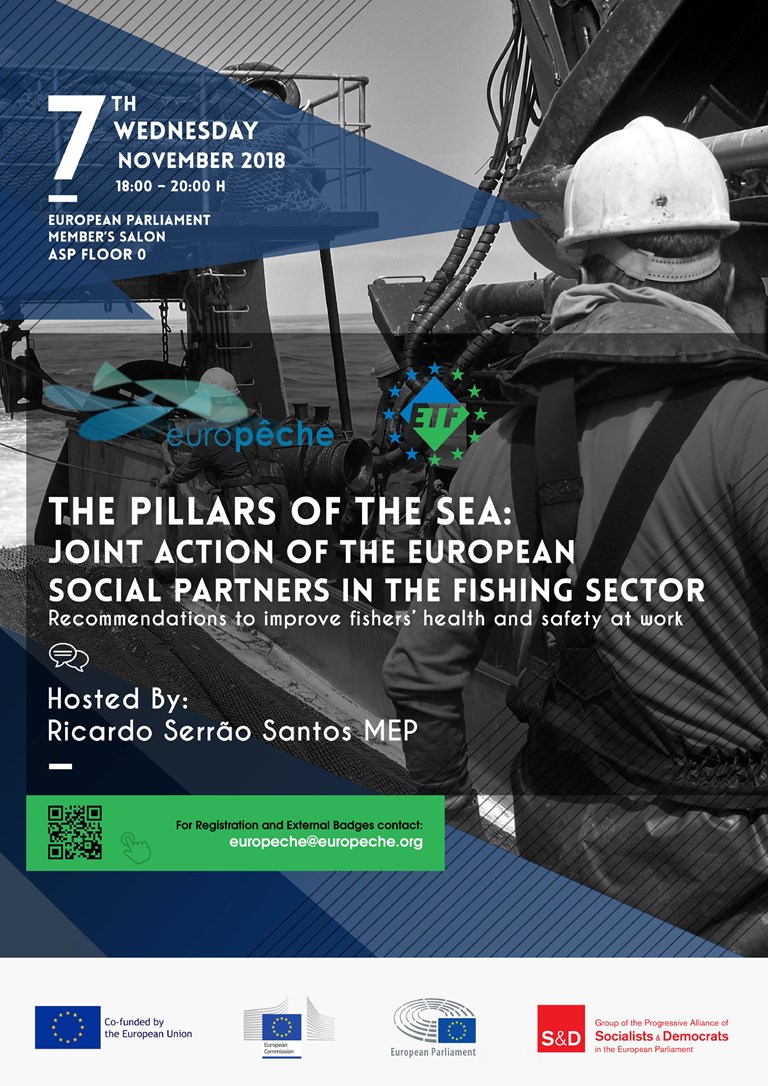 The project as a whole, consists in partially implementing the work programme of the Sectoral Social Dialogue Committee for Sea Fishing in order to significantly make progress in various key areas of interest for Social Partners. The main issues covered by the project are mainly dealing with how to improve health, working conditions and safety at sea of our fishermen.